Proper sleep is an overall health powerhouse. It can have a massive impact on your physical and mental health throughout your lifetime.
Hustle culture and the pressure to do more work from home have minimized the enormous harm of under-sleeping. 50% of North Americans suffer from sleep problems of some kind, and poor sleep is linked to a long list of health conditions, including diabetes, stroke, and heart attack.
We know it can be tough to disconnect from stress and build strong sleep habits. These all-natural, tech-friendly tips will prep you to get a better night's sleep to help amp up your overall health and wellbeing.
.
The (many) benefits of better sleep
.
1. Control appetite and burn calories more efficiently
Short sleep duration is one of the most substantial risk factors for obesity. Sleep is just as vital as diet and exercise for your overall health — people who consistently have their sleep interrupted or shortened REM and deep sleep cycles have a higher risk of obesity.
In both children and adults, poor sleep negatively affects the hormones that regulate our appetite and our body's ability to store fat and utilize it for energy effectively. People who get adequate sleep tend to eat fewer calories and maintain healthier body weight than folks who don't get enough shut-eye.
.
2. Boost brain function and cognition
Insufficient sleep impairs brain function. Being sleep-deprived is as bad for your brain cognition as being drunk. A study proved that staying awake for 17-19 hours straight impaired the participants the same as if they had 4-5 alcoholic beverages (or a blood alcohol level of 0.1). If your BAC is between 0.10 and 0.125, your speech will slur, and your balance, vision, reaction time, and hearing will all be impaired.
.
3. Protect immunity
The more you sleep, the stronger your immune system can become. Even a slight reduction in sleep can have a drastic effect on your immunity. Losing just one hour of sleep makes you three times more likely to develop a cold.
.
4. Improve mental health
Sleep is key to mental health. It can prevent mental health problems before they start. If you live with on-going depression, anxiety, ADHD, and other mental health disorders, focusing on sleep can help alleviate symptoms and help you live more regularly.
Free Health Program
Healthy Sleep Habits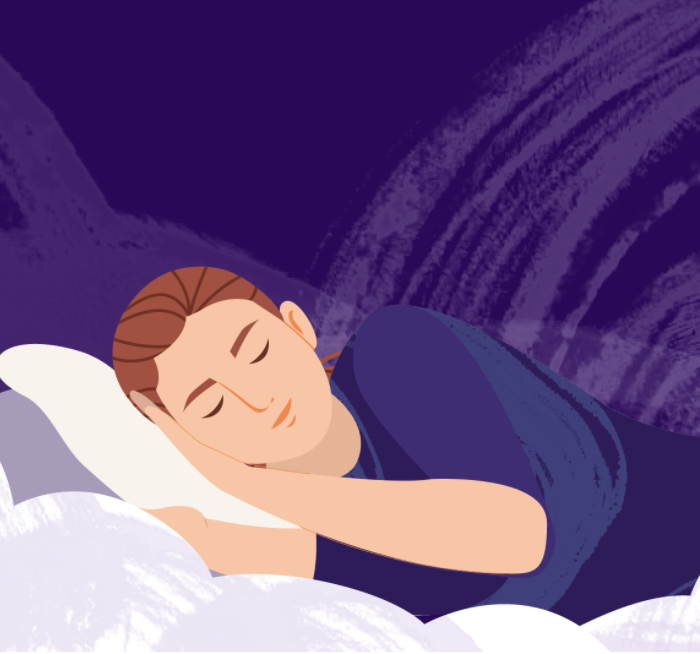 You can teach yourself to sleep better
Experts believe that bad sleep habits and insomnia are learned behaviors. The bright side to this is that it's just as possible to unlearn bad habits and focus on new hygiene routines instead.
Good sleep hygiene isn't just about what you do when you hop into bed. It's a matter of preparing yourself throughout the day and creating regular habits that make it simple for you to drift off to dreamland.
.
Take a blue light break
Get into the habit of putting away all electronic devices one hour before bedtime. The blue light emitted by screens on computers, cell phones, televisions, and tablets impedes your melatonin production, the hormone responsible for your sleep and wake cycles. A reduction in this hormone makes it harder to fall asleep and often leads to disrupted sleep patterns.
.
Let there be dark!
Even regular light interferes with melatonin production, so sleeping in complete darkness should help you get the sleep you need. For this to work, you'll have to cover or remove any electronic devices, as well as your alarm clock and any night lights, as even the slightest exposure can interfere with your sleep. If you're unable to block out all sources of light, it might be time to invest in a high-quality sleep mask.
.
Airplane mode isn't only for airplanes
Many folks use their phone as their alarm clock, which usually means leaving it temptingly close to your bed — if this sounds like you, turning off all cellular and WiFi signals is a must. Set your phone to airplane mode so that the alarm will still work, but you won't be able to doom scroll Instagram right before bed. This simple act will help reduce exposure that can interfere with optimal sleep cycles and some of the adverse mental health effects of overexposure to news and social media.
.
Set a bedtime alarm
Reminding yourself when it's time to get ready for bed is critical. Set your alarm for approximately one hour before lights out, and begin your bedtime routine when it goes off. The alarm will act as a gentle nudge to turn off all electronic devices, brush your teeth, take a relaxing bath, meditate or hop into bed with a good ol' fashioned book.
.
Sleep in your birthday suit
While many of us like to snuggle up under flannel sheets while catching our ZZZs, our bodies need to cool down as we sleep. Try keeping your bedroom at a temperature of about 18 degrees Celsius / 65 degrees Fahrenheit. Think about ditching your pajamas altogether! Sleeping in your birthday suit also helps increase metabolism, improve blood circulation, and lower blood pressure.
.
Stop and smell the lavender
Studies have shown that smelling lavender before bed can help you achieve deeper sleep, as well as make you feel more well-rested come morning. If you need help winding down before bedtime, try adding a few drops of lavender essential oil to your bath, on your pillow, or simply rub a few drops on the soles of your feet, wrists, or temples for an immediate, all-natural calming effect.
Free Health Program
Fundamentals of Sleep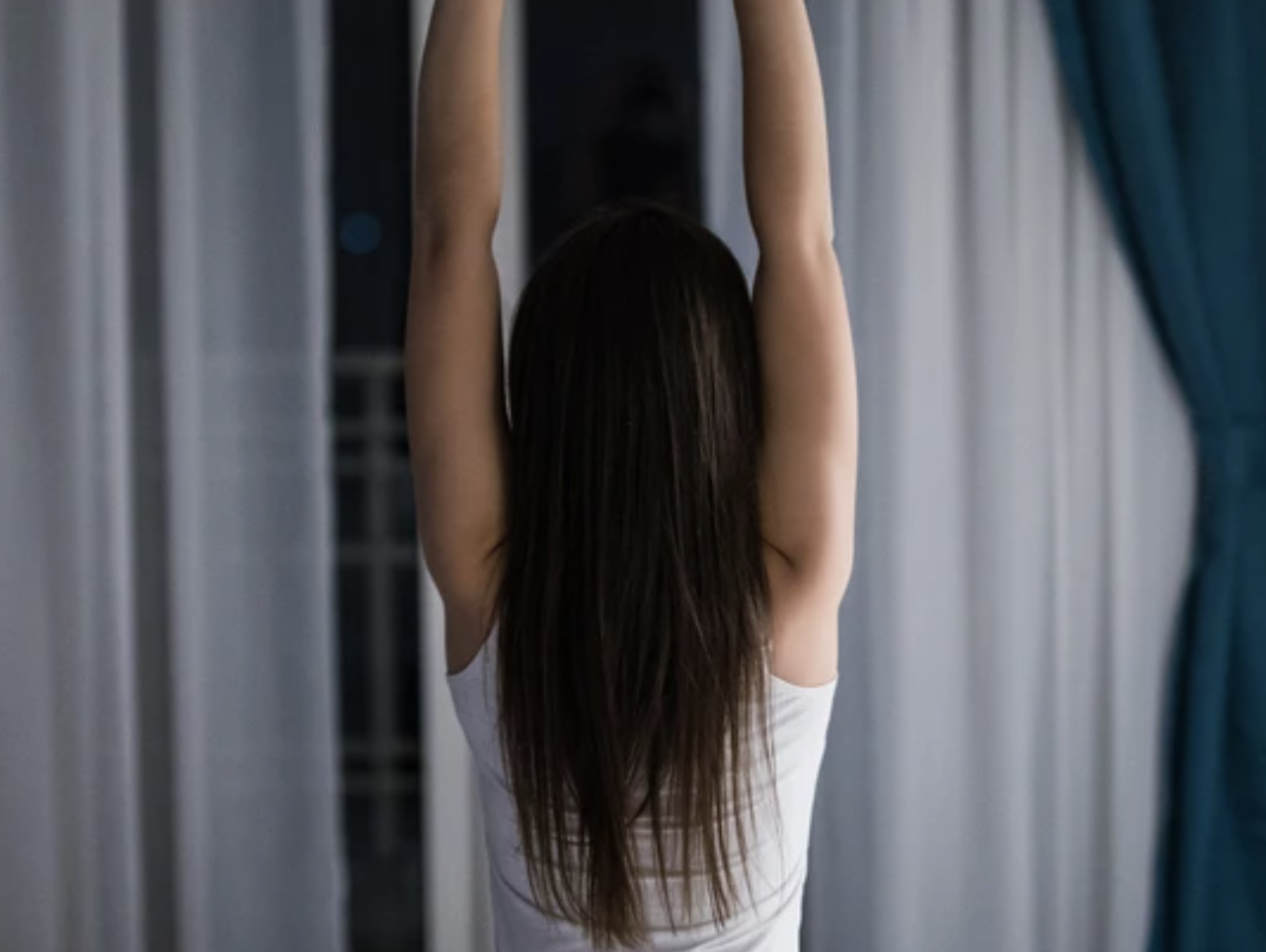 Snack on sleep-enhancing foods and nutrients
.
Open sesame
If you have trouble falling asleep (or staying asleep), you might be low in two crucial hormones: serotonin and melatonin. To help your body produce them, you'll need to ramp up on your tryptophan intake. Try adding sesame or chia seeds to a small bowl of yogurt or cereal before bed. Just 100g of sesame seeds will provide 1000mg of tryptophan, and 100g of chia seeds will provide 700mg.
.
Stay calm and magnesium on
Magnesium is called the relaxation mineral, and before bed, a little relaxation is exactly what you want. Magnesium helps us switch off and induces a feeling of tranquility by stimulating the GABA receptors in our brain. GABA helps ease anxiety and minimizes those racing thoughts that can keep you up at night and impact your sleep.
One of the great things about magnesium is that our bodies can absorb it in many different ways: We can eat high-magnesium foods like dark leafy greens, nuts, or dark chocolate (to name a few!), take it as an oral supplement, apply the oil directly to your skin, or soak in a bath of Epsom salt baths.
.
Sip on this
Tart cherry juice is a natural source of melatonin and tryptophan, and chamomile and valerian root can induce sleepiness and promote relaxation. Pour yourself a glass of cherry juice or sip on a cup of chamomile or valerian root tea to naturally prep yourself to enjoy a deep and satisfying slumber.
The Well
Rest Easy with Sleep-Optimizing Snacks