Your gut controls up to 80% of your immune system's overall function. That means it's the #1 factor in your ability to defend yourself against both temporary sickness and chronic diseases.
More than that, we're increasingly aware of how our gut impacts mental and psychological health as well. So much so that many researchers now call the gut your "second brain."
.
It takes guts
When we say "gut," we tend to think of our stomach and other lower intestinal organs. Our entire gastrointestinal tract (also called our GIT) contains every organ we use to eat, digest, and go to the bathroom. It's a long, twisting tube that starts with your mouth and goes through your esophagus, stomach, small intestine, large intestine, and ends at your anus.
Your gut microbiome is home to more than 100,000,000,000,000 (yeah, that's 100 trillion, with a "T") extremely tiny bacteria, viruses, protozoa, and fungi that you couldn't live without.
On top of regulating your immune systems, they help protect against disease-causing bacteria, properly digest food, and produce critical vitamins including B12, K, thiamine, and riboflavin.
Like your fingerprint, your microbiome is unique to you — nobody else in the world has an identical one. Made up of more than 1,000 different organisms, your microbiome is adaptable and alive. Like you, it inherits some microbes from your birth parents, can be modified by what you eat, and can be weakened by illness or antibiotics.
These communities of microorganisms living inside you make up your digestive microflora or "microbiota." Maintaining a healthy level of thriving microflora helps keep you healthier and happier.
If your microbiome balance is thrown off, it can turn on negative immune responses like inflammation, a higher risk of disease, and digestive distress, like bloating, pain, constipation, or diarrhea, from gut stress. Irritable bowel syndrome (IBS) and inflammatory bowel disease (IBD) are two intestinal diseases closely linked to the human microbiome's functioning.
.
Two nervous systems and two "brains"
You've probably heard of your body's central nervous system. Made up of your brain and spinal cord, it connects to all of your major organs through an intricate network of nerves, neurons, and neurotransmitter chemicals.
You might be less familiar with the second part of your body's nervous system housed in your gut. Your enteric nervous system, just like your central nervous system, is a web of nerves and neurons. But this one runs throughout your gastrointestinal tract and creates an even stronger gut-brain connection than we knew about before.
You've probably noticed your brain and gut talking to each other at some point. If you've ever felt "butterflies in your stomach," then you've experienced firsthand how your mental state can affect your stomach and digestion.
What you might be less aware of is your gut-brain connection subtly working in the opposite direction. Our digestive system's health impacts your mood, sleep, mental well-being, stress levels, and ability to cope with anxiety.
Long story short, proactively taking care of your gut is just as crucial for your mental health as your physical health.
.
Habits that hurt your gut health
Eating too many highly-processed foods
Bacterial diversity is key to a happy microbiome. When you eat processed foods with more refined carbohydrates and sugars and less fiber, you reduce the diversity of the microflora in your gut. This makes it harder to properly absorb vitamins and nutrients from food while also spiking inflammation in your gastrointestinal tract.
Free Health Program
Foundations of Healthier Eating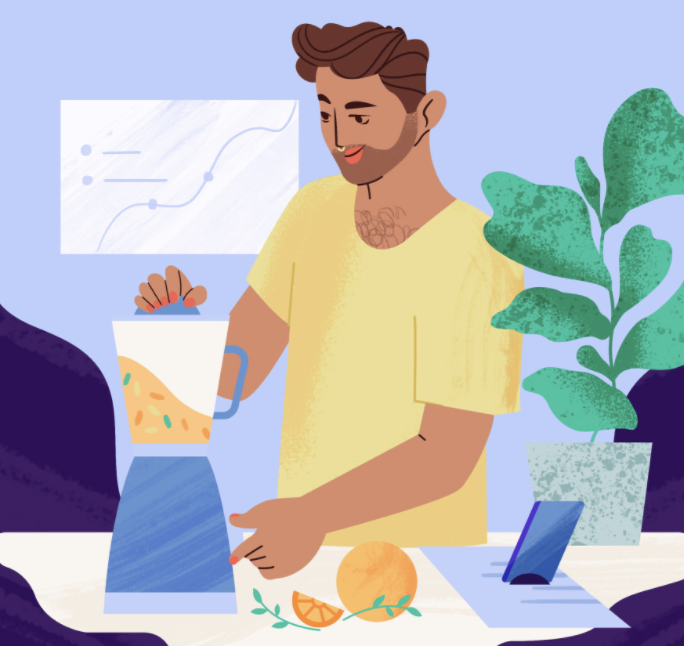 Not eating enough fiber
Fiber is food for your gut. Most North Americans don't get enough fiber in their daily diet. Only 5% of Americans and 16% of Canadians get their total recommended fiber intake.
.
Not addressing symptoms of chronic stress
Over time, long-term stress physically alters your gut microbiota. It's one of the main reasons mental symptoms of anxiety are so closely connected to negative physical symptoms, like bloating, pain or constipation.
.
Taking antibiotics and other medications
Some of the medications we need to take for fundamental reasons you might have the unfortunate side effect of weakening gut health. Talk with your primary care provider or chat real-time with a registered nurse if you're concerned about your gut health but also take antibiotics, birth control pills, proton-pump inhibitors to treat stomach ulcers, or any type of non-steroidal anti-inflammatory drugs (NSAID), like ibuprofen, naproxen, and many others.
.
Not getting enough sleep
Healthy sleep has a long list of important benefits. When you don't sleep well and disrupt your natural circadian rhythm, it also upsets your gut microbiome's balance. This starts a nasty cycle where you sleep less, causing your microbiome to weaken, causing you to sleep less, and so on.
Lifemarket
The Nourish Collection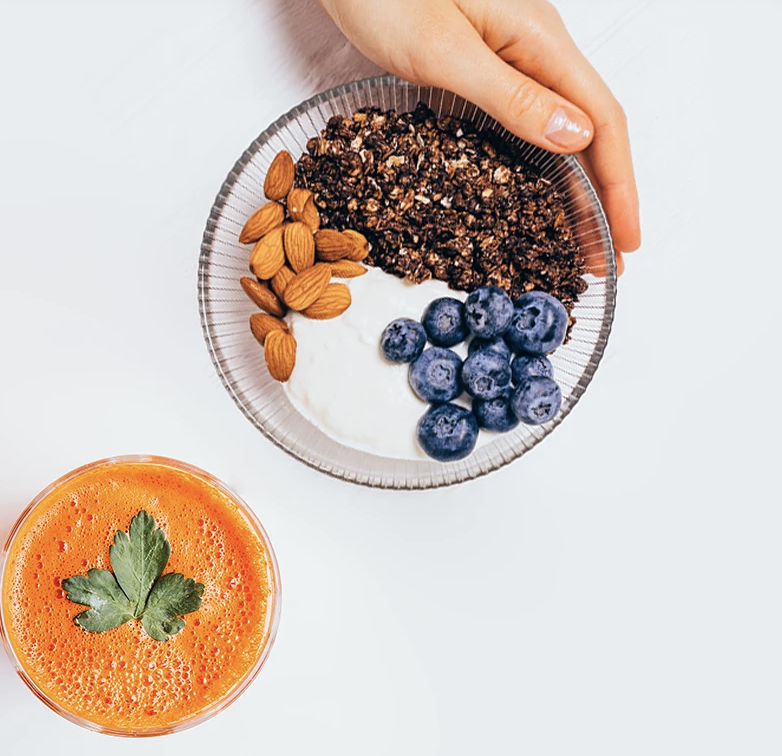 Give your gut more love
Supercharge your diet with fiber and prebiotic foods
Look for whole, nutrient-dense foods containing prebiotics and fermentable fiber (like garlic, sweet potatoes, plantains, bananas, artichokes, onions, and leeks) and polyphenols (like blueberries, green tea, and dark chocolate).

Like gas in a car, foods rich in prebiotics and polyphenols provide the necessary fuel for good bacteria to feed on and grow, ultimately resulting in more diverse gut flora.
.
The Well
Immunity-Boosting Bone Broth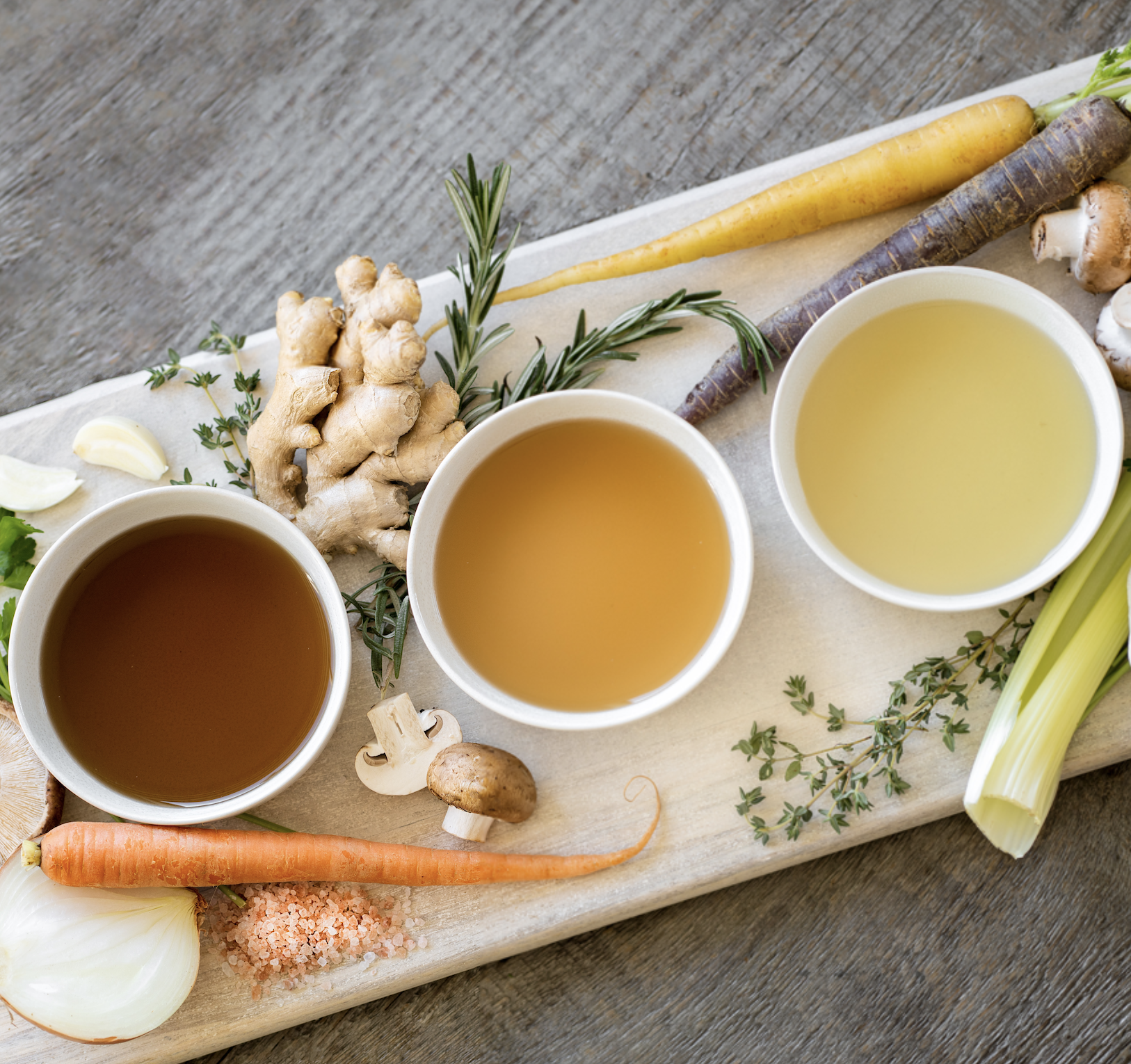 .
Get extra support from probiotics
Ferments are your friends. They're jam-packed with various strains of microorganisms ready to help support your microbiome.

Look to add things like kimchi, kombucha, yogurt, kefir, and unpasteurized sauerkraut to your daily diet, or make it even easier with a probiotic supplement. Try your best to take your probiotics at the same time each day. Taking probiotics on a full stomach will drastically reduce their effectiveness. Talk to your doctor about the type of supplements that will work best for you.
.
Talk to your doctor about antibiotics
Antibiotics can't tell the difference between good and bad bacteria, and can obliterate all the health organisms in your microbiome. Just one week of antibiotics can disrupt your microbiome balance for up to a year.
If you're prescribed a course of antibiotics for a condition, don't feel afraid to ask your doctor questions about how it will affect your digestive health.
.
Go easy on coffee and alcohol
Especially if you deal with diarrhea or going to the bathroom more than you'd like to, digestive stimulants like coffee and alcohol will make the problem worse. Plus, most alcohol types have been proven to decrease the number of healthy bacteria in your gut. The exception? Moderate amounts of red wine are shown to have a positive effect on your microflora. Cheers to that!
.
Drink more water
If you're not as regular as you'd like to be, drink more water on the regular. Sufficient hydration is the engine that powers your digestive system. If you're struggling to get enough H20 into your day, add our Boost Your Hydration Health Program to get some help.