If you're just learning about Health Savings Accounts (aka, HSAs), you may just be at the start of learning about all they have to offer. Yes, it may seem like a simple savings account for your healthcare expenses, but it offers so much more.
Below are the top 4 healthy habits for a health savings account.
1. Ease your HDHP worries.
High Deductible Health Plans (aka, HDHP) can cause some people a bit of unease. As the name suggests, the plan has a high deductible which can lead to concerns about potential out-of-pocket costs. For example, if you're enrolled in an HDHP, you may have wondered how you would cover the costs associated with a catastrophic injury or sudden illness. 
While these are all valid concerns, consider this: the money you are saving each month by paying a lower cost premium can be contributed to your HSA. In fact, you could be paying up to $2,000 more a year if you enrolled in a "lower deductible" health plan, like a PPO. Instead, you can invest that money in an HSA to save for unexpected healthcare costs.
2. Get more money from your employer.
No, really. Many employers will offer contributions to their employees HSAs. So, it's money you wouldn't be receiving from your employer if you didn't have an HSA. When you combine that with your own HSA contributions, you can easily be on your way to a healthy account balance to prepare you for any unexpected expenses. If you're a League member and want to learn more about your employer's contributions, just chat with our Customer Care team.
3. Reach your full potential savings for qualified medical expenses.
Consider contributing to your HSA until you reach the maximum annual contribution limit (your employers' contributions count towards your limit). The IRS limit for 2021 is:
$3,600 for individuals

$7,200 for families     
Meeting your full investment opportunity will only help you and your long term savings goals.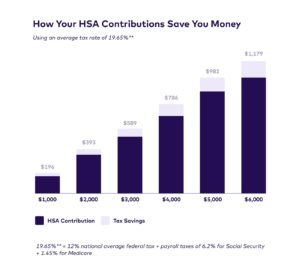 4. Consider your HSA as part of your retirement plan.
Yes, you can use your HSA into your golden years. While HSAs are a great way to save for the short-term, you do have the ability to use your HSA funds for qualified medical expenses after you retire. In fact, once you reach the age of 65, you can even use HSA funds on non-qualified medical expenses without paying the typical 20% tax penalty. However, you will still be expected to pay the income tax on any money used for non-qualified expenses.
Again, if you're currently a League member, keep in mind that you can direct any HSA-related questions to a League Customer Care Representative directly in your League app.